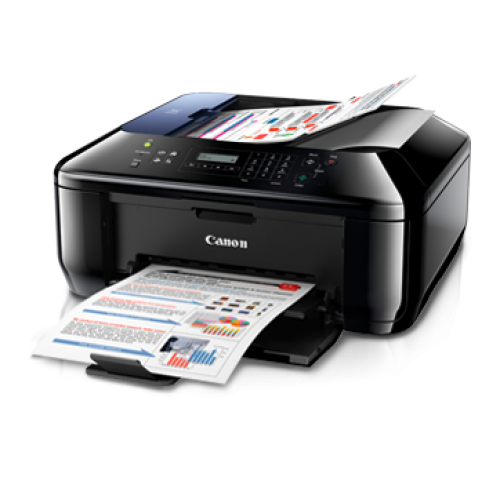 PIXMA E600
E600 PIXMA's Faatures
Brand: Canon
Product Code: PIXMA E600
Availability: In Stock
ENQUIRE MORE
The PIXMA Office All-In-One Ink Efficient E600 lets you print up to 800 pages with just one low-cost, high-capacity ink cartridge. It also comes with faxing capabilities, fax security and integrated auto document feeder.
ISO standard print speed (A4): up to 8.9ipm mono / 5.2ipm colour
Print, scan, copy, fax
Prints a 4 x 6″ borderless photo in 46secs.
Print
Maximum Printing Resolution
4800 (horizontal)*1 x 1200 (vertical)dpi
Print Head / Ink
Type:
FINE Cartridge
Total Number of Nozzles:
1792
Ink Droplet Size (min.):
2pl
Ink Tank:
PG-88, CL-98
Print Speed
Based on ISO / IEC 24734.
Measurement Conditions
Document: Colour*2:
ESAT / Simplex:
Approx. 5.2ipm
Document: B/W*2:
ESAT / Simplex:
Approx. 8.9ipm
Photo (4 x 6″)*2:
PP-201 / Borderless:
Approx. 46secs.
Printable Width
Up to 203.2mm (8-inches)
Borderless:
Up to 216mm (8.5-inches)
Printable Area
Borderless Printing*3:
Top / Bottom / Right / Left margin: each 0 mm
(Supported Paper Size: A4, LTR, 4 x 6″ ,5 x 7″ ,8 x 10″)
Bordered Printing:
Top margin: 3mm,
Bottom margin: 5mm,
Left / Right margin: each 3.4mm
(LTR, LGL: Left: 6.4mm, Right: 6.3mm)
Recommended Printing Area
Top margin:
32.5mm
Bottom margin:
33.5mm
Paper Size*4
A4, A5, B5, LTR, LGL, 4 x 6″, 5 x 7″, 8 x 10″, Envelopes (DL, COM10)
Paper Handling (Front Tray)
(Maximum Number)
Plain paper
A4, A5, B5, LTR = 100, LGL = 10
High Resolution Paper
(HR-101N)
A4 = 80
Photo Paper Pro Platinum
(PT-101)
4 x 6″ = 20, A4 = 10
Photo Paper Plus Glossy II
(PP-201)
4 x 6″ = 20, A4 = 10
Photo Paper Plus Semi-Gloss
(SG-201)
4 x 6″ = 20,
A4 / 8 x 10″ = 10
Glossy Photo Paper "Everyday Use"
(GP-501)
4 x 6″ = 20, A4 = 10
Matte Photo Paper
(MP-101)
4 x 6″ = 20, A4 = 10
Photo Stickers
(PS-101)
1
T-Shirt Transfer
(TR-301)
1
Envelope
European DL, US Com.
#10 = 5
Paper Weight
Front Tray:
Plain Paper: 64 – 105g/m2, Canon specialty
paper: Max paper weight: Approx. 300g/m2
(Photo Paper Pro Platinum PT-101)
Ink End Sensor
Dot count
Print Head Alignment
Manual
Scan
Scanner Type
Flatbed & ADF
Scanning Method
CIS (Contact Image Sensor)
Optical Resolution*5
1200 x 2400dpi
Selectable Resolution*6
25 – 19200 dpi
Scanning Bit Depth (Input / Output)
Grayscale:
16 / 8 bits
Colour:
48 / 24 bits (RGB each 16 / 8 bits)
Line Scanning Speed*7
Grayscale:
1.1ms/line (300dpi)
Colour:
3.4ms/line (300dpi)
Scanning Speed*8
Reflective:
A4 Colour / 300dpi:
Approx. 15secs.
Maximum Document Size
Flatbed:
A4, LTR (216 x 297mm)
Copy
Maximum Document Size
A4, LTR (216 x 297mm) (ADF: A4, LTR, LGL))
Compatible Media
Size:
A4, A5, B5, LTR, LGL, 4 x 6″, 5 x 7″
Type:
Plain Paper
Photo Paper Pro Platinum
(PT-101)
Photo Paper Plus Glossy II
(PP-201)
Photo Paper Plus Semi-gloss
(SG-201)
Glossy Photo Paper "Everyday Use"
(GP-501)
Matte Photo Paper
(MP-101)
Image Quality
3 positions (Fast, Standard, High)
Density Adjustment
9 positions, Auto intensity (AE copy)*
* Not supported for ADF
Copy Speed*9
Based on ISO / IEC 24735 and
ISO / IEC 29183 standard.
Measurement Conditions
Document: Colour:
sFCOT / Simplex:
Approx. 23secs.
Document: Colour:
sESAT / Simplex:
Approx. 4.1ipm
Document (ADF): Colour:
ESAT / Simplex:
Approx. 3.4ipm
Multiple Copy
Black / Colour:
Max. 99 pages
Fax
Type
Desktop Transceiver Super G3 / Colour Communication
Applicable Line
PSTN (Public Switched Telephone Network)
Transmission Speed*10
Black:
Approx. 3secs.(33.6kbps)
Colour:
Approx. 1min.(33.6kbps)
Fax Resolution
Black:
8pels/mm x 3.85 lines/mm (Standard)
8pels/mm x 7.7 lines/mm (Fine)
300 x 300dpi (Extra Fine)
Colour:
200 x 200dpi
Print Size
A4, LTR, LGL
Scanning Width
208mm (A4), 214mm (LTR)
Modem Speed
Maximum 33.6kbps (Automatic fall back)
Compression
Black:
MH, MR, MMR
Colour:
JPEG
Gradation
Black:
256 levels
Colour:
24 bits Full colour
(RGB each 8 bits)
ECM (Error Correction Mode)
ITU-T T.30 compatible
Automatic Dialing
Group Dialing:
Max. 19 locations
Transmission / Reception Memory*11
Approx. 50 pages
PC Fax
Type
Windows:
via FAX modem (in MFP)
Mac:
NA
Destination Number
1 location
Black / Colour
B/W transmission only
System Requirements
(Please visit www.canon-asia.com to check OS compatibility and to download the latest driver updates)
Windows:
Windows XP SP2, XP SP3 /
Windows Vista SP1, Vista SP2 /
Windows 7, 7 SP1
Macintosh:
Mac OS X v10.4.11 – 10.7
General Specifications
Quick Start
Approx. 4secs.
Operation Panel
Display:
Full dot LCD
ADF
Paper Handling (Plain Paper):
A4, LTR = 30, LGL = 5
Interface
USB 2.0 Hi-Speed
Operating Environment
Temperature:
5 – 35°C
Humidity:
10 – 90% RH
(no dew condensation)
Storage Environment
Temperature:
0 – 40°C
Humidity:
5 – 95% RH
(no dew condensation)
Acoustic Noise (PC Print)
Approx. Photo (4 x 6″)*12:
Approx. Approx. 42.0dB (A)
Power
AC100 – 240V, 50 / 60Hz
Power Consumption
Standby
Approx. 1.6W
Copying*13:
Approx. 14W
Environment
Regulation:
RoHS (EU, China), WEEE (EU)
Eco-Label:
Energy Star
Monthly Duty Cycle
Up to 3,000 pages
Dimension (W x D x H)
Approx. 458 x 385 x 200mm
Weight
Approx. 8.5kg