HP Designjet L25500 60-in Printer (CH956A)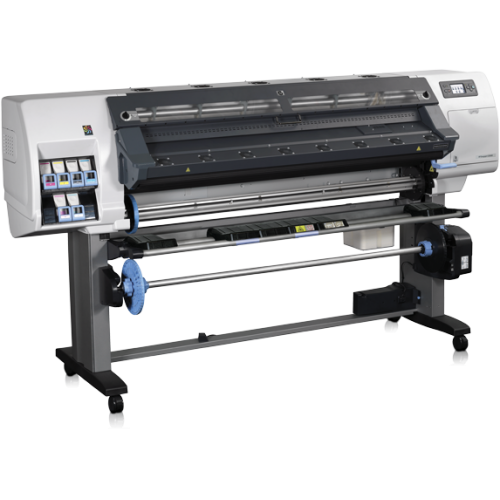 HP Designjet L25500 60-in Printer (CH956A)
CH956A HP Designjet Printers' Features
Brand: Hewlett-Packard
Product Code: HP Designjet L25500 60-in Printer (CH956A)
Availability: In Stock
ENQUIRE MORE
Increase business opportunities with a printer that delivers unrivaled versatility with a broad outdoor/indoor application reach.[1] Experience the ease of reliable HP Designjet printing. Attract the attention of environmentally conscious customers.

Features
Unrivaled versatility from one printing system
Meet your customers' many needs with one device that offers unrivaled versatility for outdoor/indoor applications. Generate high-impact ad campaigns that span indoor and outdoor applications, from POP displays to bus shelters to vehicle wraps.
Achieve high-quality results—that meet clients' branding requirements—for all your indoor signage applications, from exhibition graphics to interior decorations.
Print on a wide range of media, including coated media or polyester fabric[2] and low-cost papers without treatments.
Produce vehicle wraps with HP Latex Inks that outperform eco-solvent inks.
Easy, automatic, low maintenance printing
Experience easy, unattended printing with HP Thermal Inkjet printheads and automatic maintenance.
Experience greater uptime—with user-replaceable printheads you can avoid the delay and expense of a service call.
Automatically achieve high image quality and consistency with the HP Optical Media Advance Sensor (OMAS) and embedded spectrophotometer.
Post-print production is easy with prints that come off the printer dry and ready—for lamination, packaging, shipping, and display.
Go green, improve your operator's work environment
Provide your print operators with an improved working environment—without the health and safety considerations of printshops that use eco-solvent-based printers.
Build a competitive edge with odorless prints[5] that allow placement in Point-of-Purchase areas where odor is a concern.
This HP Designjet meets strict energy efficiency guidelines and helps keep costs down without the need for an external dryer or special ventilation equipment.
Distinguish your business and attract new environmentally focused customers by offering a complete solution—including water-based HP Latex Inks and HP recyclable media[3]—that helps reduce the impact of printing on the environment.