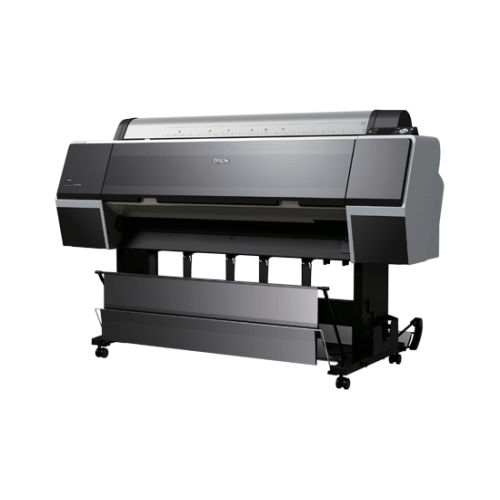 Epson Stylus Pro 9700
Epson Stylus Pro 9700's Features
Brand: Epson
Product Code: Epson Stylus Pro 9700
Availability: In Stock
ENQUIRE MORE
The extremely versatile Epson Stylus Pro 9700 is designed for fast production of strikingly attractive prints making it the best solution to all your business printing needs.
Increase Efficiency with High Precision and Speed
Micro Piezo Thin Film Piezo™ (TFP) Print Head
Featuring higher performance and greater durability, Epson Micro Piezo TFP™ print head has 720 micro-fine nozzles for each colour to deliver perfectly accurate dot shapes with virtually no misting or satellites. Optimised for Epson UltraChrome® Ink with Vivid Magenta, it uses Epson's proprietary Variable-Sized Droplet Technology (VSDT) to produce droplets as small as 3.5 picoliters (pl) delivering precision in every printout.
High Speed Printing
Micro Piezo TFP™ print head ensures high-speed data throughout, for faster print speed without sacrificing quality.
Higher Precision with Special Mode for Line Drawing
Epson Stylus® Pro 9700 offers a special 1400 x 1440dpi mode* that prints line drawing and alphanumeric characters with significantly enhanced sharpness.

*Compatible with selected media
Greater Colour Vibrancy for Advanced Eye-catching Printouts
More Brilliant Colours with a Wider Colour Gamut
Epson UltraChrome® Ink with Vivid Magenta delivers outstanding print performance as it significantly expands the range of colour expression with the addition of vivid magenta. You'll be able to produce flyers, posters and other promotional materials with greater colour vibrancy and impact.
Excellent Colour Stability
Epson UltraChrome® Ink with Vivid Magenta dries and stabilises quickly, ensuring reliable and accurate colour rendition within minutes of printing.
Two Black Inks for Greater Versatility
Epson Stylus® Pro 9700 is built-in with both Photo Black and Matte Black inks. For optimum results and greater convenience, the printer will automatically select either the Photo Black or Matte Black ink set based on the media selected in the printer driver. Now you only need one printer to cater for a variety of inkjet-coated media.
High Light-fastness and Water-resistance
The excellent light-fastness quality of Epson UltraChrome® Ink with Vivid Magenta enhances the printouts' durability by preventing them from fading and discolouration due to prolonged exposure to light. In addition, its specially formulated resin-encapsulated pigments make it highly water-resistant.
Increase Productivity with Easy-to-use Functions
Available in Two Ink Cartridge Capacity
Select from two convenient ink cartridge capacity of 350ml and 700ml according to your printing needs. The large ink cartridge capacity lets you enjoy longer print runs without unnecessary cartridge changes.
Epson's new spindle-less flange makes paper loading a breeze. It comes with a roll media adaptor that can easily switch to support a 2″ or 3″ paper roll. The single flange is suitable for most media types. A built-in intelligent roll paper feeding system automatically aligns and adjusts the paper for optimal tension during loading.
Colour LCD Control Panel
The highly visible 320 x 200 pixels colour LCD panel displays all useful information including the remaining amount of ink in each cartridge and maintenance tank. There is even a cleaning button that runs a quick and easy operation.
Fast Cutting of Paper and Other Media
The Epson Stylus® Pro 9700 employs a new rotary paper cutter that is faster, more efficient and durable. It can cut an entire sheet smoothly and cleanly within seconds, and can cut any type of rolled medium, including cloth, canvas and adhesive paper, eliminating the need for manual cutters.
Barcode Printing For Useful Identification
When you need to change a roll of paper, you can print a barcode on it first for future identification. The barcode provides you with useful information such as media ID (for Epson genuine media) or an allocated number (for custom media) as well as the remaining paper length on the roll of paper. This information will help you to avoid any misprint due to insufficient media.
Versatile Connectivity with Ethernet and USB Interfaces
The Epson Stylus® Pro 9700 is network ready. It has a 10 Base T/100 Base TX Ethernet interface that allows the printer to be shared in a networked environment. A USB 2.0 port (compatible with 1.1) is also provided for direct printing connection. Both use enhanced processing technology to ensure high-speed data throughput.
Improved Software Support
New Layout Manager (Windows Driver Only)
Epson's Layout Manager enables the efficient printing of itemscreated in various applications and in various sizes. There are a number of layout options that will enable you to edit and arrange your artwork freely and creatively. You even have the option to multiply a single image within the same printout so as to maximise paper usage.
HDI Driver
All Epson Stylus® Pro printer drivers are optimised to support the Heidi Device Interface (HDI) graphics engine used by AutoCAD. These drivers help to speed up throughput and ensure high precision print data accuracy.