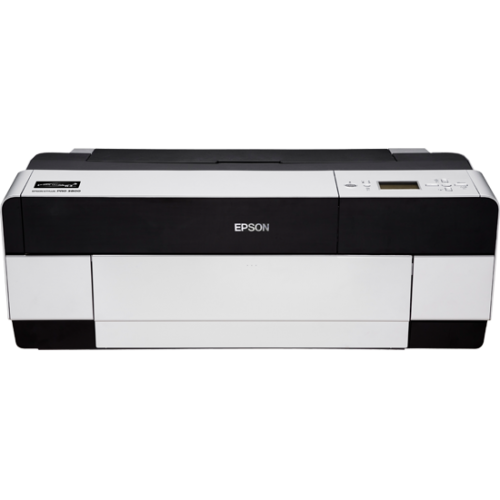 Epson Stylus Pro 3885
Brand: Epson
Product Code: Epson Stylus Pro 3885
Availability: In Stock
ENQUIRE MORE
SMALLEST AND MOST AFFORDABLE PROFESSIONAL A2 PRINTER EVER.
Smallest professional A2 printer with unrivalled quality
Unique, high-density ink set come with newly formulated vivid magenta and vivid light magenta.
Adds vibrancy and impact to image quality thus expanding the range of artistry especially in the deep blue-magenta range.
Quick-drying and quick-stabilising properties ensure exact colour rendition within moments of printing.
Excellent light-fastness prevents fading and discolouration for 85 years* for colour and over 200 years* for black-and-white prints (when mounted behind glass).
Specially formulated, water-resistant, resin-encapsulated pigments used in the inks are extremely moisture-resistant.
Stunning Back-and-white Photos
Proprietary Epson technology employing three shades of black is the key to truly professional black-and-white photo printing.
A richer range of tonal expression is possible with no twists or casts in black-and-white photo reproduction, giving life-like artistry to the prints.
The lightest black in the Ink colour palette renders extremely smooth black-and-white tonal gradations, from the deepest shadows to the lightest highlights, resulting in excellent volume perception.
The extremely high D-Max of produces richer, deeper blacks which is particularly striking in glossy ultra high quality photos.
With alternative use of photo or matte blacks, the Epson UltraChrome® K3 with Vivid Magenta Ink system guarantees best prints on a wide variety of media.
Depending on the type of media selected in the printer driver, the printer automatically selects between the photo black or matte black ink set.
Ultimate Colour Optimisation with the Epson Look Up Table (LUT) Technology Algorithm
Epson LUT technology improves print quality by offerring smoother gradation, finer grain and superior colour consistency.
Fast print speed with Epson Micro Piezo™ Print Head
Combining Epson's propriety Micro Piezo™ print head technology and its UltraChrome® K3 inks with Vivid Magenta Inks, the print head is able to offer one-inch coverage with each pass resulting in fast throughput and superior image stability.
Innovative ink-repellent coating maintains precise droplet delivery even under high workloads.
Built-in Interfaces for Versatile Connectivity
USB 2.0 port (compatible with 1.1) and an Ethernet port allow you to connect several computers to the printer simultaneously, for seamless printing from any computer system.
Intelligent Head Alignment and Maintenance Sensors
A built-in multi-sensor system ensures precise head alignment for accurate ink droplet delivery.
Cleaning function is automatically activated when sensors detect nozzle-clogging anomalies in the test pattern.
Large-format and Large-volume Printing in a Sleek, Compact Body
It is the smallest footprint among the A2 class printers in the market.
Comes with large ink cartridges, which lets you enjoy longer print runs with unnecessary cartridge changes.
Simple and Efficient Control Panel
A large 2.5-inch backlit LCD panel allows efficient direct control of nozzle maintenance and cleaning, and checking of operational status including ink quantities.
Initial network setup can also be performed on the control panel without the need for a PC or notebook.