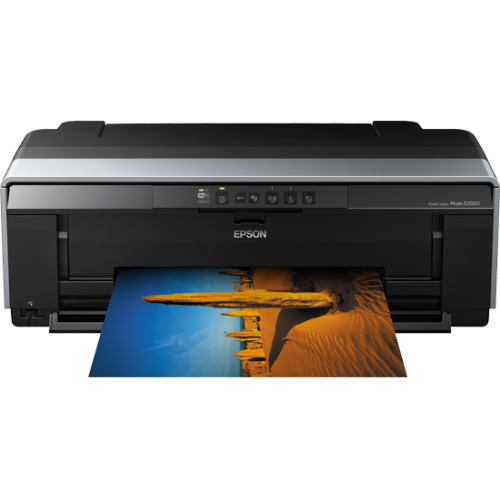 Epson Stylus Photo R2000
Epson Stylus Photo R2000's Features
Brand: Epson
Product Code: Epson Stylus Photo R2000
Availability: In Stock
ENQUIRE MORE
The Epson Stylus® Photo R2000 is packed with rich innovations like its dazzling eight-colour ink set, glossy and matte paper capability and intelligent Look Up Table (LUT) technology to give you the perfect means for creative expression.
Simply Brilliant
Epson UltraChrome® Hi-Gloss2 Ink
The eight-colour, high-density pigment ink set includes red and orange plus an enhanced high-density Gloss Optimiser. You'll see the difference in radiant skin tones, wide colour gamut, and a stunning brilliance. Auto switching between Photo Black and Matte Black inks add to your convenience and assures rich, deep blacks on glossy and matte paper.
Epson's Intelligent Look Up Table Technology
Creating beautiful images requires optimal deployment of ink. Epson Stylus® Photo R2000 achieves this by utilising Epson's proprietary and sophisticated Look Up Table (LUT), which converts RGB or CMYK colour information to create the appropriate blend of inks depending on the image being printed. This technology also leverages the printer's wide colour gamut and ultra-small ink droplets, producing smooth colour gradations, excellent colour consistency and minimal grain.
Micro Piezo™ Print Head
Epson's renowned Micro Piezo Print Head delivers crisp, precise dots that exhibit minimal misting and satellites. Optimised for Epson UltraChrome Hi-Gloss2 Ink and employing Epson Variable-Sized Droplet technology, this advanced print head produces drops as small as 1.5 picolitres* and offers fast print times. Moreover, an ink-repellent coating decreases maintenance while increasing reliability.

*When printing at 5760 x 1440 dpi
Ink Density Optimisation
In order to ensure colour stability and consistent print quality, specially designed ink cartridges are employed that optimise ink density. A new vibration mechanism gently agitates ink inside cartridges where tiny fins amplify the mixing effect. Vibration is performed automatically when powering on and off, or manually via the printer driver.
Incredibly Efficient
High-capacity Ink Cartridges
Epson Stylus® Photo R2000 is ideal for frequent high-volume printing thanks to high-capacity ink cartridges. With nearly 1.5 times the ink of cartridges in previous Epson models, you can now devote more time to production and less to maintenance.
Fast Print Speeds
An improved paper feed mechanism precisely controls paper movement, resulting in faster throughput than previous models. You'll be able to quickly turn out high-quality, high-resolution prints to keep pace with your creative workflow.
Versatile Media Handling
Compatibility with a diverse range of media which vastly expands creative horizons. Print on glossy, matte and fine art papers as well as heavy boards* in sheets up to A3+, or use roll media for impressive panoramas and banners. Media options include printable CDs and DVDs.

*Up to 1.3 mm thick
Built-in Wireless and Ethernet
Wireless capability lets you print from anywhere in your home and share with multiple computers with less cable clutter. Wireless access even extends to new-generation PEDs like iPad and iPhone. Epson Stylus® Photo R2000 is also equipped with Ethernet for easy connection to wired LANs and supports USB 2.0 as well as PictBridge.